Knowledge Management for Public Affairs
Most companies do not manage – or measure – in a scientific and effective way their relationships with decision makers and opinion leaders, neglecting related political risks or opportunities.
Managing public affairs activities is a competitive differentiator that enables organizations to design the most effective strategy to reach their goals.
KMIND® helps Organizations in developing, implementing and monitoring public affairs activities in a clear and systematic approach, focusing on transparency, accountability and collaborative business.
What's KMIND®
KMIND® - Knowledge Management for Public Affairs, is a web-based software with an unique and integrated platform which supports Organizations in the management of their relationship with decision makers in a transparent and measurable way by using complete smart dashboard. The software connects and analyzes data and information coming from both inside and outside the company, through a business intelligence system that allows the storage and the usage of data for strategic goals.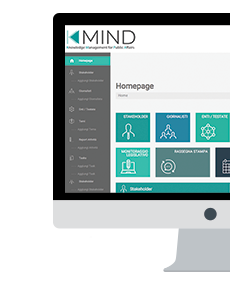 Fully Customizable
No two businesses are identical. Configure your system to match your business processes. The possibilities are endless! You can customize your CRM to match your way of getting your work done, 100% customizable.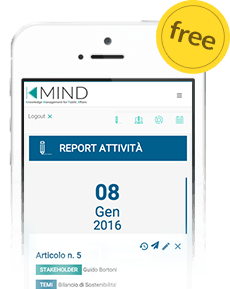 Mobile Responsive
You'll have all your CRM data in your pocket, whenever you need it. Pick a screen, any size! Just open the web browser on your phone or tablet, log into KMIND®, and every file detail is at your fingertips.
Why it's worth it
The worst things that can happen to a company is to be blind-sided by an issue, to fail to act on a policy opportunity or to lack the appropriate internal processes for analyzing, prioritizing and assessing the impact of policy issues as well as the relationships with the decision makers/opinion leaders who influence such policy.
Transparency
KMIND® brings together all relevant information in one single place: institutional, legislative and medias are monitored and linked to the internal activities of the Company. The tracking of the contacts of each stakeholder of interest offers a transparent picture of the network of the Organization. An appropriate management of the public affairs activities is a competitive differentiator that enables organizations to design the most effective strategy to reach their goals.
History Tracking
KMIND® helps the team to organize in a clear and systematic way the relations of the Organization with the stakeholders of interest. It also helps the team keeping track of the number of contacts with every stakeholder, such as meeting reports, documents delivered, feedback received, etc. When people in your Company change, the history of the Organization is stored and tracked into the platform: the "relational assets" are no longer the property of a single manager, but a heritage of the entire company.
Security
KMIND® provide a security model that protects data integrity and privacy, and supports efficient data access and collaboration. The goals of the model are as follows: provide users with the access only to the appropriate levels of information that is required to do their jobs; categorize users by role and restrict access based on those roles; prevent a user's access to records the user does not own or share; KMIND® limits exposure of data to the users that act on it.
Maintenance
A Specialist is someone from our team who virtually sits with your team for a fixed number of hours per month until you no longer need him. You can use him for training, assisting with your customization or helping with any other value-added service. Maintenance also includes updates done in order to keep the software usable over long period of time. It includes new features, new user requirements for refining the software and improve its reliability and performance.