Monitoring
Organize the information coming from the legislative monitoring activities
KMIND® brings together all relevant information in one single place: institutional, legislative and medias are monitored and linked to the internal activities of the Company. The tracking of the contacts of each stakeholder of interest offers a clear picture of the network of the organization.
Analysis
Improve the scenario analysis detecting new issues and weak signals
KMIND® through the analysis of legislative acts, press clipping, social networks and web detects new issues and weak signal therefore supporting the team capability to improve the scenario setting. This is a competitive differentiator that helps organizations to reach their goals.
Strategy
Design the most effective strategy managing public affairs activities
In complex systems, mostly in sectors where regulation play a role, most of the strategic investment decisions, have to take into consideration both economic indicators and political issues. An appropriate management of the public affairs activities enables organizations designing the most effective strategy.
---
Positioning
Manage high level relationships and create a strong positioning for your organization
KMIND® is an effective tool supporting your organization in managing high level relationships with decision makers and opinion leaders. It also brings transparency to the way your organization interacts with the political system, positively influencing your Company positioning.
Influence
Understand your relationship and map the chain of influence
A proper understanding of your relationships with decision makers and opinion leaders supports the setting of the chain of influence and therefore offers to your organization the capability to build an effective and quick influence strategy.
Outcome
Measure the level of influence and track the history of the Organization
When people in your Company change, the history of the organization is stored and tracked into the web platform: the "relational assets" are no longer the private property of a single manager, but a common heritage of the entire company.
We help you improve the value of your projects by integrating them with: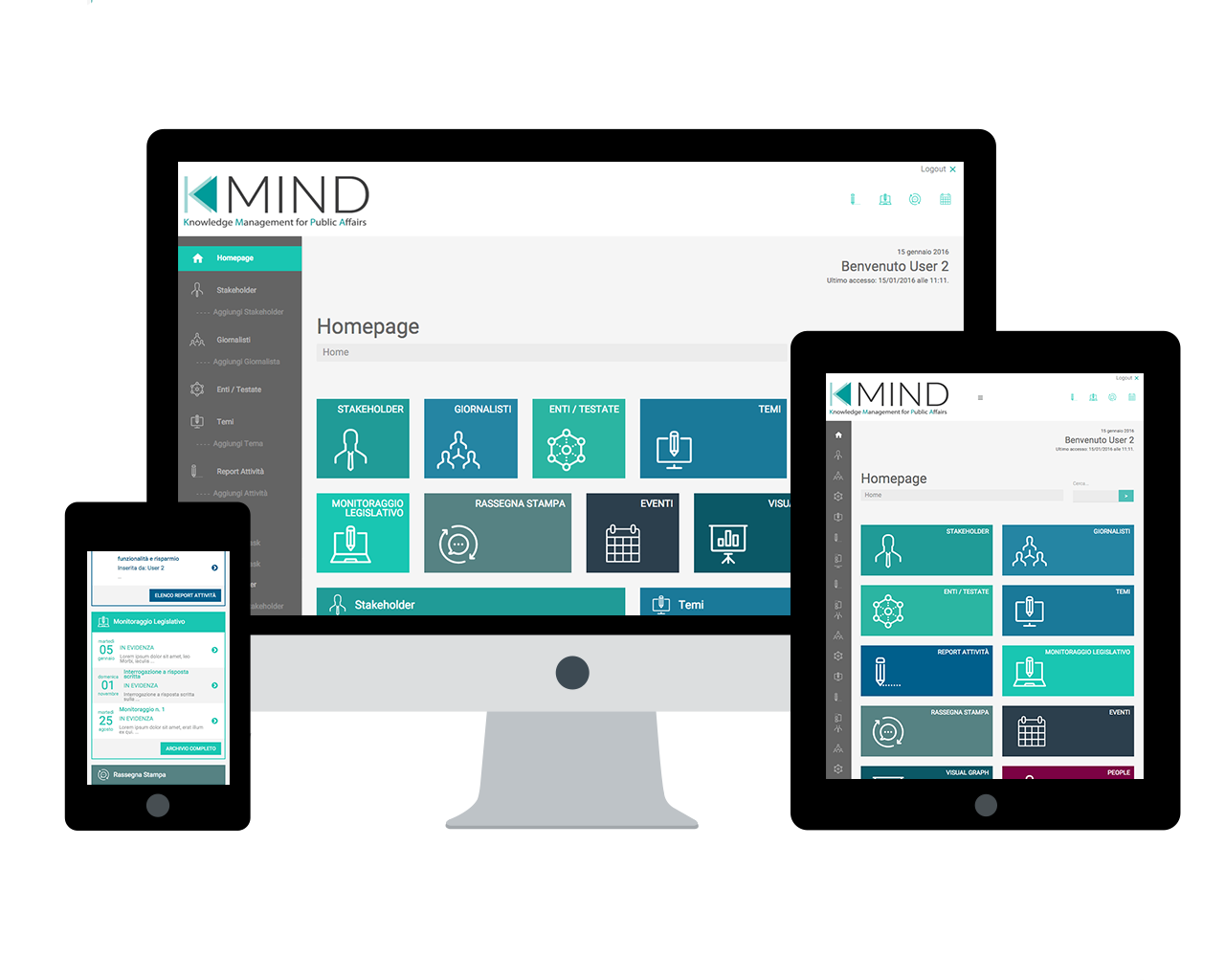 Stakeholder Analysis
Legislative Monitoring (European, National and Local Level)
Press Reviews
Social Network Analysis
Calendar of Events
Company Performance Analysis
Risk Management
Negotiating Techniques
Regulatory Analysis
Timing Analysis
Priority Check
Alliance Verification
Support to Corporate Social Responsibility
Support to Transparency Report
Tool for the Collaborative Business